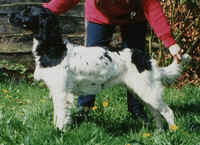 The Large Munsterlander was developed in Germany and derived from the German Longhaired Pointer in the early part of the 20th century. There were twenty-three dogs entered at their first breed show in 1921, upon which the modern breed is founded. He is good on land and in water and is a very handsome dog, medium in size at 60 - 65cm but quite heavy in proportion at up to 65lbs. The Large Munsterlander looks strong and muscular and moves well with drive.

His coat is his great asset; the body coat is white or blue roan, both with black patches, flecking, ticking or any combination; the head is solid black although a white blaze, star or snip is allowed. The coat on the head lies flat and smooth, but the rest of the coat is longer, dense and well-feathered. The feet are tufted between the toes, so he is a dog that needs a little tidying up after a muddy walk, but apart from that he makes a very appealing companion dog.

The Large Munsterlander is a loyal and affectionate dog, a good family dog who enjoys life as a gundog, but takes well to obedience too. Not a dog who shouts his pedigree at you from a photograph, but once see him moving and his considerable class is clearly evident.