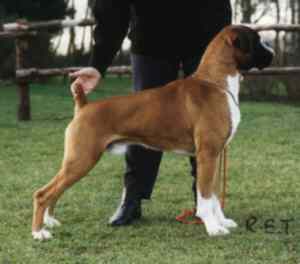 Fanfare Rhinegold of
Newlaithe
This breed has German origins dating back to the end of the 1800's.

Best described as an intelligent extrovert with a mind of his own, although they do have great potential for obedience. Packed with power, they are alert and playful. A breed that loves human companionship, with family loyalty and a suspicion of strangers. Standing at 63 cm (25 inches), Boxers are easy to groom but need plenty of exercise.